EXECUTIVE SUMMARY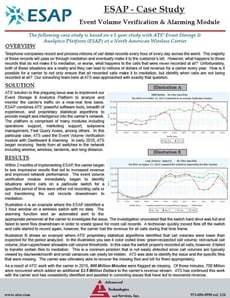 Telephone companies record and process millions of call detail records every hour of every day across the world. The majority of those records will pass on through mediation and eventually make it to the customer's bill.
However, what happens to those records that do not make it to mediation, or worse, what happens to the calls that were never recorded at all? Unfortunately, both of these situations are a reality and they can lead to millions of dollars of lost revenue for a carrier every year. How is it possible for a carrier to not only ensure that all recorded calls make it to mediation, but identify when calls are not being recorded at all?
Our consulting team here at ATS was approached with exactly that question.
PLEASE FILL OUT THE FORM TO DOWNLOAD THE CASE STUDY...