EXECUTIVE SUMMARY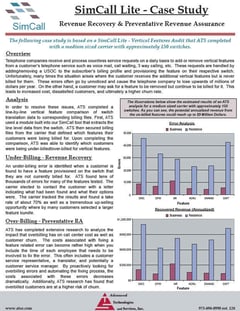 Telephone companies receive and process countless service requests on a daily basis to add or remove vertical features from a customer's telephone service such as voice mail, call waiting, 3 way calling, etc. These requests are handled by adding/removing a USOC to the subscriber's billing profile and provisioning the feature on their respective switch.
Unfortunately, many times the situation arises where the customer receives the additional vertical features but is never billed for them. These errors often go by unnoticed and cause the telephone company to lose upwards of millions of dollars per year. On the other hand, a customer may ask for a feature to be removed but continue to be billed for it. This leads to increased cost, dissatisfied customers, and ultimately a higher churn rate.
PLEASE FILL OUT THE FORM TO DOWNLOAD THE CASE STUDY...