EXECUTIVE SUMMARY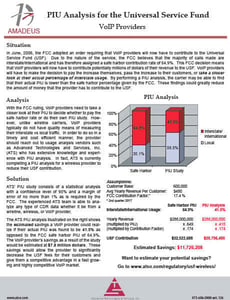 In June 2006, the FCC adopted an order stating that VoIP providers will now have to contribute to the Universal Service Fund (USF). Due to the nature of the service, the FCC believes that the majority of calls made are interstate/international and has therefore assigned a safe harbor contribution rate of 64.9%. This FCC decision means that VoIP providers now have to contribute potentially millions of dollars of their revenue to the USF. Providers will have to make the decision to pay the increase themselves, pass the increase to their customers, or take a closer look at their actual percentage of interstate usage.
By performing a PIU analysis, the provider may be able to find that their actual PIU is much lower than the safe harbor percentage given by the FCC. These findings could greatly reduce the amount of money that the provider has to contribute to the USF. Carriers that rely on the Safe Harbor face a competitive disadvantage to the extent that other carriers' reliance on traffic studies or actual interstate revenues leads to a lower contribution percentage, meaning that those carriers pay less money into the USF and attempt to recover fewer dollars from their customers.
PLEASE FILL OUT THE FORM TO DOWNLOAD THE CASE STUDY...