EXECUTIVE SUMMARY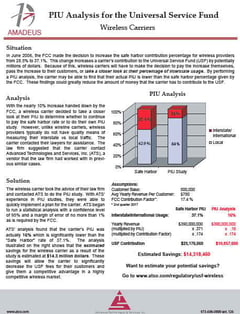 In June 2006, the FCC adopted an order that increased the Safe Harbor contribution percentage for the federal USF from 28.5% to 37.1%. For carriers that continue to rely on the Safe Harbor, an increase of 9% is significant and can result in upwards of millions of dollars of additional contributions to the federal USF.
Carriers that rely on the Safe Harbor face a competitive disadvantage to the extent that other carriers' reliance on traffic studies or actual interstate revenues leads to a lower contribution percentage, meaning that those carriers pay less money into the USF and attempt to recover fewer dollars from their customers. The increased Safe Harbor can also strain carriers' revenues to the extent that they are unable, as a practical matter, to pass the higher contributions through to their customers.
PLEASE FILL OUT THE FORM TO DOWNLOAD THE CASE STUDY...